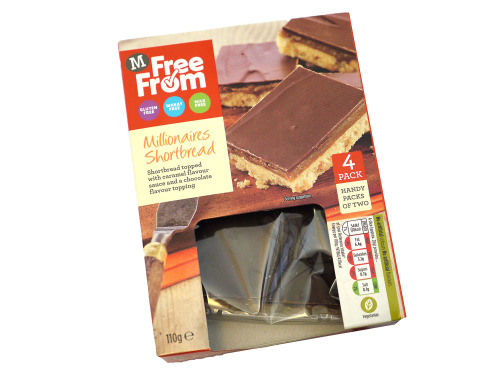 Morrisons FreeFrom Millionaires Shortbread come from the company's own-brand range of gluten-free, dairy-free and wheat-free products.
Sold in packs of four, divided into two two-piece servings, they cost … a pack.
I'll cut right to the chase – these are just awful.
Every single layer of what should be a luxurious treat just tastes wrong.
The biscuit is entirely bland, as is the caramel which lacks the true unctuous sweetness you'd expect and tastes decidedly like it has been flavoured with a caramel flavouring rather than come anywhere close to the real thing.
There's also a strange hint of coconut throughout the whole thing. Not that I dislike coconut but it's not right for a millionaires shortbread.
It also feels like it could do with a little salt. Not even to the level of a salty caramel but just the normal amount you'd expect for bringing out flavour.
Then there's the chocolate, which just isn't actually chocolate. Quite why Morrisons has taken away the one thing on here that could be served as is, without compromise for the sake of being gluten/dairy-free, I do not know – just use some normal dark chocolate.
In fairness, Morrisons may simply be obliged to call it a 'chocolate flavour topping' because it's bulked out with other stuff and despite it containing cocoa mass and butter.
Also, credit where it's due: the overall texture of the snack is very good. The chocolate has a good snap, the caramel is nice and squidgy and the biscuit has a nice crumble.
Regardless, the end result is a snack that is not just far from being the treat you'd hope for but downright unpleasant.
Avoid at all costs.